Biblioteca Estense Universitaria
Insegne araldiche: Corsini
· ID: 7413
· Data (indicativa): 1650
· Attribuzione nella fonte: Petrus q. Thomae de Corsinis
· Inserimento: 4.3.2014
· Localizzazione: Firenze
· Fonte:
gamma.s.3.33 = cap.528
Armi di cardinali fiorentini e dei papi che li nominarono cardinali
· Voci d'indice:
Corsini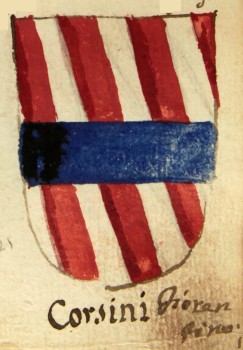 · ID: 3597
· Data (indicativa): 1715
· Attribuzione nella fonte: Corsini
· Inserimento: 25.4.2012
· Localizzazione: Firenze
· Fonte:
gamma.i.2.23 = cam.766
Araldo nel quale si vedono delineate e colorite le armi de' potentati e sovrani d'Europa…
· Voci d'indice:
Corsini
· Rif. web:

santamariadegliangeliroma.it — papa clemente xii

corsini.info — breve storia di casa corsini
Si consiglia di effettuare collegamenti solo alla homepage delle insegne, e non a pagine specifiche, poiché i nomi delle pagine possono cambiare.

Please only link to arms of coats homepage, not to individual arms pages, as page filenames may vary.